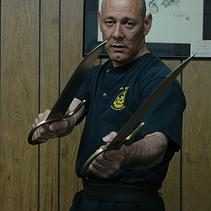 Sigong/Sifu Al Zepeda
Head Instructor for Advanced Wing Chun Kung Fu at Raja Academy, Monday & Wednesday nights at 8:30-9:30pm.
Sifu Al Zepeda has over 42 years martial arts experience. He began his martial arts training back in 1972, becoming a black belt in Shotokan Karate.In 1983, Al began his training in Wing Chun Kung Fu. He studied with Sifu Bill Wong, a member of the Martial Arts Hall of Fame. While training with Sifu Wong, Al met Sifu Francis Fong out of Atlanta Georgia. In 1987, after completing studies with Sifu Wong, Al began studies under Sifu Fong and has trained with him since.
In September of 1995, Al received his 1st degree black sash under Sifu Fong. Through Sifu Fong, Al has studied and practiced Wing Chun Kung Fu, Filipino Kali, Muay Thai Kickboxing, and Brazilian JuJitsu. His base art is Wing Chun, which has been very exciting and dynamic training.
Sifu Al Zepeda is a 5th degree Black Sash in Wing Chun under Sifu Francis Fong. He is also a certified full instructor and active member in the Francis Fong Instructor Association. Sifu Al has taught children's classes, adults, law enforcement officers and military personnel. Believing that you never stop learning, Sifu Al continues his martial arts education with studies and practice at the Francis Fong Academy. With Sifu Al Zepeda's experience, he is an effective instructor and knowledgeable martial artist.
Sifu Zepeda teaches martial arts in the Greenville / Spartanburg area of South Carolina. To reach Sifu Zepeda for more information on personal Wing Chun training and locations, email him at zepedawingchun@gmail.com or call (864) 485 3109.