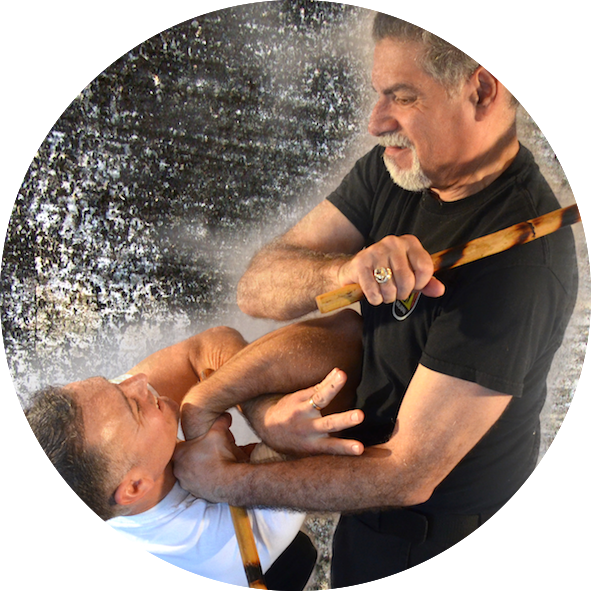 Grandmaster Dan Medina is the founder of Majapai and Master of Derobio and Author of "The Secret Art of Derobio Escrima"
Dan Medina was first introduced to martial arts with a combination of Judo and the Navy Seal Quick-Kill method. He joined the Black Masters Sphinx Karate Clan of the Philippines, and discovered the art of  Arnis 63 Generals. In 1978, he joined Philippine Martial Arts Studio and studied with Shihan Raynaldo Gingco a Kyokushin and Kuntaw Instructor.
In 1980, he became a student of Grandmaster Narrie Babao learning the arts of Arnis Batangas and Kuntao. 1984 to 86, Medina, mastered the Ocho system and Modern Arnis Ernesto Presas Style under the tutelage of  Philip Pabalinas. In 1986, Dan Medina moved to Hawaii and became a disciple of Great Grandmaster Braulio T. Pedoy and his son, Batikan Eduardo J. Pedoy.
Currently, Dan is the founder of Majapai and Master of Derobio and Rajah (6thDegree Red & White belt), Florida V.P. for Sphinx Karate & Arnis 63 Generals. With a 3rd Degree in Kobudo, Dan has received a Doctorate for his contributions to the Martial Arts,  he also holds an honorary Black Belt for his contributions to the art of Kajukembo by Grand Master Sam Allred .
From 2001 to present, G.M. Medina has been inducted into the International Karate and Kickboxing Hall of Fame, Eastern USA International Blackbelt Hall of Fame, Action Martial Arts Magazine Hall of Honors and World Head of Family Sokeship Council hall of Fame.  In 2014, Grandmaster Dan Medina has been nominated as a Legendary Figure in the Martial Arts by W.H.F.S.C as well as a Nomination to the Masters Hall of Fame.