About us
---
Read more about our instructors, coaches and staff by scrolling below. We are here because we love to share the arts with others.
---
POWER & CONFIDENCE : Depending on personal abilities, the time that it takes to become skilled will vary from individual to individual. Consistent training is very important for the student to feel accomplishment and lessen any feelings of frustration. Usually, consistent students feel fairly confident in their skills after approximately six months.

Muay Thai, Wing Chun, JKD, FMA – Derobio Escrima & Kali, Silat, Boxing, Bootcamp, Dragon & Tiger Warriors, Ethos Combatives, and Womens Fitness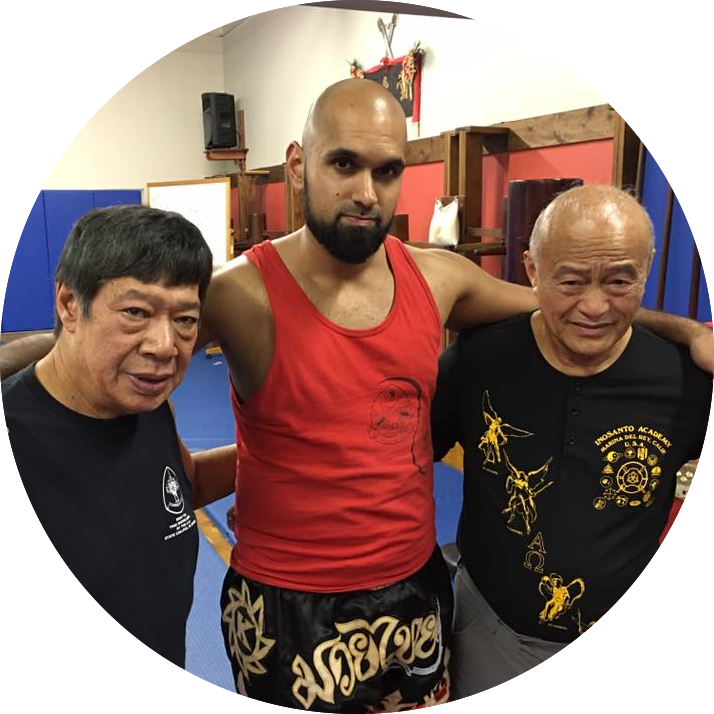 Sifu/Khun Kru/Guru Harun Raja
OWNER & LEAD INSTRUCTOR
Sifu Raja holds a black sash under both Sifu Al Zepeda and Sigong Francis Fong in the art and science of Wing Chun Kung Fu. He is also an associate instructor/Khun Kru under Ajarn Chai and is the South Carolina, Greenville Branch representative for the Thai Boxing Association of USA. In furthering is martial arts studies, in 2016, Mr. Raja became Guru under Dan Inosanto and Dan Medina and integrates this art of weaponry skills into his FMA classes. CLICK HERE TO READ MORE.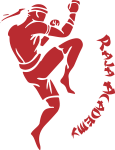 Grandmaster Dan Medina
Founder of Majapai and Master of Derobio and Author of "The Secret Art of Derobio Escrima"
Grandmaster Medina has been inducted into the International Karate and Kickboxing Hall of Fame, Eastern USA International Blackbelt Hall of Fame, Action Martial Arts Magazine Hall of Honors and World Head of Family Sokeship Council hall of Fame.  In 2014, Grandmaster Dan Medina has been nominated as a Legendary Figure in the Martial Arts by W.H.F.S.C as well as a Nomination to the Masters Hall of Fame. CLICK HERE TO READ MORE.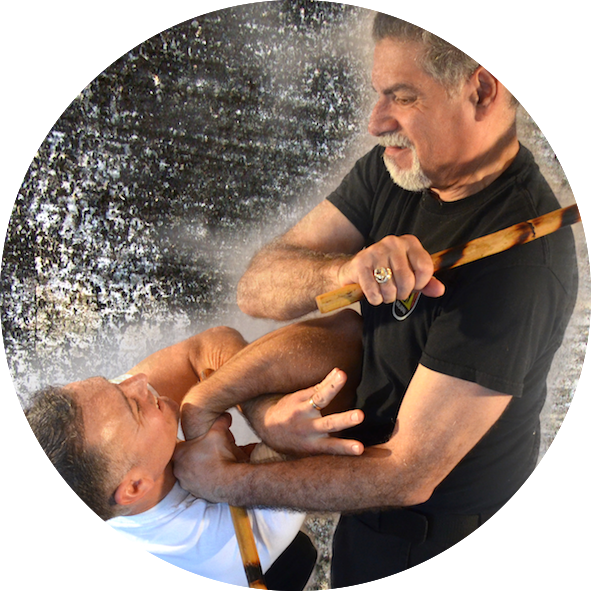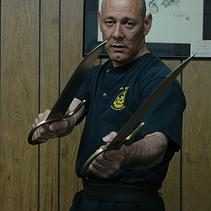 Sigong/Sifu Al Zepeda
Head Instructor for Advanced Wing Chun Kung Fu at Raja Academy, Monday & Wednesday nights at 8:30-9:30pm.
Sifu Al Zepeda has over 42 years martial arts experience. He began his martial arts training back in 1972, becoming a black belt in Shotokan Karate.In 1983, Al began his training in Wing Chun Kung Fu. He studied with Sifu Bill Wong, a member of the Martial Arts Hall of Fame. While training with Sifu Wong, Al met Sifu Francis Fong out of Atlanta Georgia. In 1987, after completing studies with Sifu Wong, Al began studies under Sifu Fong and has trained with him since.
In September of 1995, Al received his 1st degree black sash under Sifu Fong. Through Sifu Fong, Al has studied and practiced Wing Chun Kung Fu, Filipino Kali, Muay Thai Kickboxing, and Brazilian JuJitsu. His base art is Wing Chun, which has been very exciting and dynamic training.
Sifu Al Zepeda is a 5th degree Black Sash in Wing Chun under Sifu Francis Fong. He is also a certified full instructor and active member in the Francis Fong Instructor Association. Sifu Al has taught children's classes, adults, law enforcement officers and military personnel. Believing that you never stop learning, Sifu Al continues his martial arts education with studies and practice at the Francis Fong Academy. With Sifu Al Zepeda's experience, he is an effective instructor and knowledgeable martial artist.
Sifu Zepeda teaches martial arts in the Greenville / Spartanburg area of South Carolina. To reach Sifu Zepeda for more information on personal Wing Chun training and locations, email him at zepedawingchun@gmail.com or call (864) 485 3109.
Khun Kru Sonya Browning
Khun Kru for Muay Thai and Women's Kickboxing
Through her dedication and drive Kru Sonya has been a substitute Instructor for Ethos Combatives, Universal Tactics Martial Arts, Kickboxing Underground and Self Defense Classes throughout the years.  Kru Sonya teaches Muay Thai for Raja's Academy of Martial Arts.  She is also an Instructor in Self Defense (seminars are available upon request).  Visit Kru Sonya at Raja Academy on Tuesday nights at 6:45pm. CLICK HERE TO READ MORE.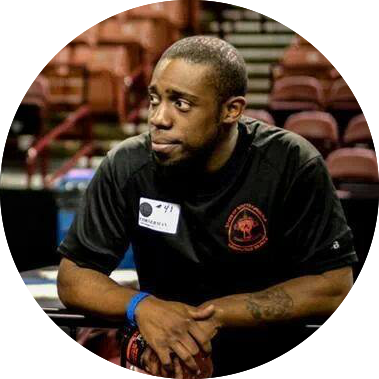 Coach Vince Seabrook
Owner of Peace Body Movement and is a US Boxing Instructor for all ages
Personal Trainer in Boxing and Assisting Instructor, Vince embarked on martial arts at the age of 9. Grew up with Family martial art instructors. Immediately started competing in Karate tournaments and competitions. After receiving his black belt, then he understudied various other martial arts. Boxing was Vince's favorite of them all leading up to becoming a certified USA Boxing coach, and K1 (Kickboxing) coach. CLICK HERE TO READ MORE.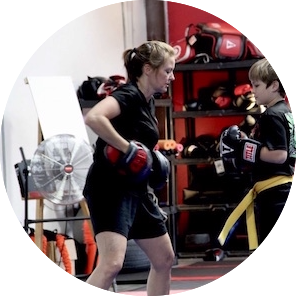 Janet Pollard
Assisting Level 1 Instructor in Muay Thai and Kids' Coach in Dragon Warriors and Tiger Warriors
Mrs. Janet has been with the Academy since ıts openıng ın 2009 and has contributed to it ever since.  A teacher by profession, she utilizes her great teaching ability and applies them in our kids classes.  She has also trained under Ajarn Paul Delfino in the art of Muay Thai along with training in his Universal Tactics class and has obtained level two certification under him. She is a Level 1 Instructor in Muay Thai under the TBA.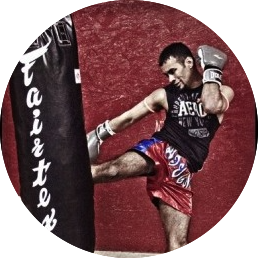 Tariq Ibn Ziad
Assisting Instructor for Wing Chun
Mr. Tariq started his martial arts journey ın 2005 in the art of Wing Chun Kung Fu and is one of Sifu Raja's close disciples.  He remembers training at his house, obtaining private one on one sessions until the Academy opened.  Shortly after, he decided to embark on the martial art of Muay Thai and his passion and hunger for martial arts has grown ever since.  He is great with kids and helps out with both kids and adults classes in both the Muay Thai and Wing Chun classes while in Sifu's absence. Mr. Tariq currently holds a Red Sash under Sifu Harun Raja in the art of Wing Chun and has over 5 years of Muay Thai experience as well.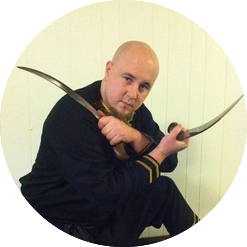 Pesilat Jason Neff
Providing instruction in the arts of Pencak Silat Mande Muda and Silek Harimau Minangkabau in Mason, Ohio
Pesilat Jason Neff started martial arts at the age of 16 in Kosho Ryu Kempo. During his martial arts journey, he has trained in Muay Thai, Tae Kwon Do, and Kali before he discovered Silat and made it his main focus. In January of 2003, Neff met Guru Kelly Smith who introduced him to both Pencak Silat Mande Muda and Lumpat Harimau Minangkabau. Since then, Neff has continued training under multiple Jagabayas and Gurus in both arts. Neff is Ohio's representative for Pencak Silat Mande Muda and a full instructor in Lumpat Harimau Minangkabau under Maha Guru Richard Crabbe De-Bordes. He currently travels, visits and teaches two times out of a month at Raja Academy under the FMA arts.