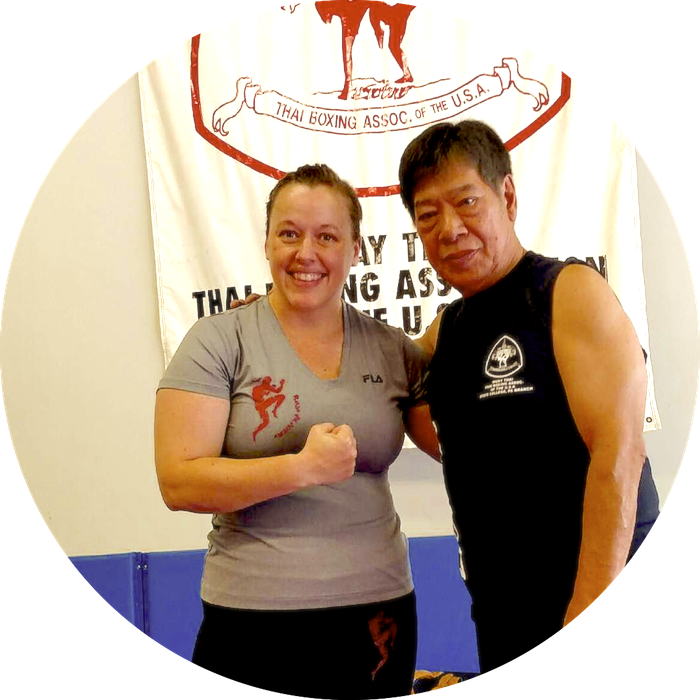 Khun Kru Sonya Browning Teaches Muay Thai & Women's Fitness/Kickboxing Classes
The first time Sonya observed Ajarn Raja's adult class, she realized she had to be a part of it.  The art of Muay Thai is unlike anything Sonya had ever seen and was eager to anticipate and attend every class without miss. Not only has Muay Thai become her passion; but it has also been very beneficial to her professional life.
In 1996, Sonya started her career in Law Enforcement. While seeking more self-defense courses and adding to her professional career, her Muay Thai training journey began with Ajarn Raja in 2010. Through her dedication and drive Sonya has been a substitute Instructor for Ethos Combatives, Universal Tactics Martial Arts and Kickboxing Underground.  Sonya has instructing Self Defense Classes since 1998.  Khun Kru Sonya is a Full Instructor in Muay Thai for Raja's Academy of Martial Arts.  She is also an Instructor in Self Defense (seminars are available upon request).  Visit Sonya at Raja Academy on Tuesday, Thursday and Fridays.
Under the TBA (Thai Boxing Association of USA):
Certified Instructor w/ Ajarn Dick Harrell
Certified Instructor w/ Ajarn Raja
Certified Full Instructor/Khun Kru w/ Grand Master Ajarn Surachai "Chai" Sirisute
Sonya started attending the Pacific NW Muay Training Camp in 2013 and currently attends each year.
Attended the Thailand Training Camp Tour of 2020.
Attends the Living Muay Thai Training Camps that started in 2021.
Sonya and the Raja Academy would love to have you join us. Don't miss this opportunity and we hope to see you soon.