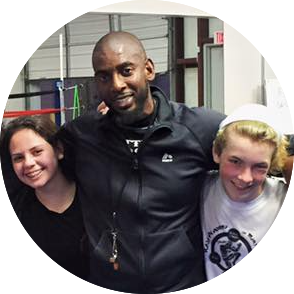 Kru Hafez Hakim teaches Daytime Muay Thai classes and coaches MMA Fights
Personal Fitness Trainer and Assisting Instructor, Hafez embarked on his Martial Arts Journey doing private lessons personally from Sifu Raja at his house long before Raja Academy was open.  Originally training only in Wing Chun, Hafez took on the discipline of both boxing and Muay Thai, and utilizes both arts in his classes.  His classes always produce a more fun yet serious conditioning aspect on Thai Boxing.
Hafez Hakim currently holds a yellow sash in Wing Chun and has been training in this art for 5 years and has 6 years experience in Muay Thai and Boxing.  Mr. Hafez teaches our Daytime Muay Thai classes and helps in both Tiger Warriors and Dragon Warriors kids classes, along with running cardio and conditioning on our open gym sessions.  He certified under Arjan Chai at the Francis Fong Academy of martial arts.