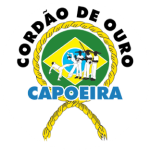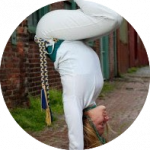 We're proud to partner with Professora Risadinha of ASCAB Capoeira and Contra Mestre Neguinho of Capoeira Cordão de Ouro to bring Capoeira to Upstate, South Carolina!
New to Capoeira?
Capoeira is an afro-Brazilian martial art that incorporates elements of fight, dance, play, acrobatics, strength, flexibility, history, endurance, music, community, friendship and freedom of expression. "It was developed in Brazil mainly by West African descendants with native Brazilian influences, probably beginning in the 16th century. It is known for quick and complex moves, using mainly power, speed, and leverage for a wide variety of kicks, spins, and highly mobile techniques." – Wikipedia
ANYONE CAN DO CAPOEIRA!
All ages and abilities are welcome to join us!
Build your strength, coordination, and confidence by doing this fun, yet complete workout. Beyond the workout, you learn discipline, focus and make many new friends from around the globe.
Contra Mestre Neguin has over 25 years experience in this art-form and is eager to share what he has learned. His additional experience and education in Physical education makes this a fun, safe yet challenging workout for anyone. Capoeira goes beyond the workout complete with music and history so that everyone, regardless of physical ability is able to participate at some level. The only way to get in shape for capoeira is to do it.
Professora Risadinha and has trained since 2002 with ASCAB Capoeira under Mestre Doutor. Music and motion have always been integral components of her life, so the synergy of the two found in capoeira was irresistible. Risadinha has had the privilege to have trained and performed all over the United States and internationally. Risadinha has lived in Brazil on two occasions to deepen her study and understanding of the culture, capoeira, music and is fluent in Portuguese.
Come to a class, try something new! A free trial introductory course for beginners is available! Come to class with loose fitting clothes and water.
Brazilian Martial Arts Dance – CAPOEIRA